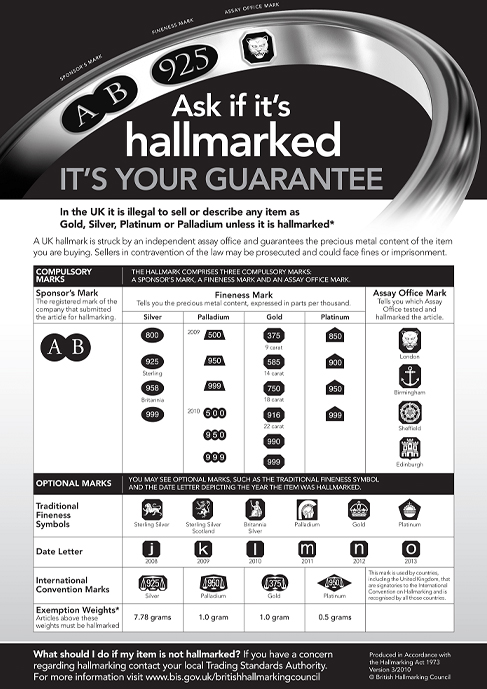 Would you like to know the history of your silver? If you own some silver, you probably want to know its age, fineness, date, and maker. Knowing these things would give you a good indication of your silver's value.
Every type of silver features a set of small markings, called hallmarks, which tell you everything you need to know about the silver. This article outlines the steps you can take to read the hallmarks found on silver products and the fineness marks found on silver bullion.
Where Was My Silver Made?
To find out where your silver was made, the first step is to look for the standard mark. There are five standard marks used in British and Irish silver:
A walking lion marks all sterling silver made in England
A standing lion marks all sterling silver made in Glasgow
A thistle marks all sterling silver made in Edinburgh
A crowned harp marks all silver made in Dublin
An image of Britannia marks Britannia silver
If you cannot find any of these marks, then your silver is probably not British or Irish or it may be silver plated. If you can find one of these marks, then we can continue to narrow down the origin.
The next step involves looking for the town mark.
The historic manufacture of silver items tended to be centred close to the various Assay Offices that tested and certified the purity of the silver.
Below are some of the most common hallmarks:
A crowned leopard's head marks pre-1820 London silver
A leopard's head marks post-1820 London silver
An anchor marks Birmingham silver
A crown marks Sheffield silver
Three wheat sheaves mark Chester silver
A castle marks Edinburgh silver
A tree, fish, bell and bird mark Glasgow silver
A crowned harp marks Dublin silver
Over time, the hallmarks for each city tended to change slightly, so if you have any doubt, you can refer to this guide here.
How Old Is My Silver?
Your silver will have a hallmark called a date letter. This marking will tell you when it was produced. However, the date letters used differ depending on where the silver was assayed. For example, the date letter for 1898 in London is a lowercase c, but in Sheffield, it's a lowercase f.
This is why it's important to first identify the city mark of the silver. Then you can compare the date markings used by that city with what you see on your silver.
How Pure Is My Silver?
Every precious metal hallmark is composed of at least three symbols. Two of the three compulsory symbols are the maker's mark and the town (or assay) mark. The third is the metal and fineness (or purity) mark.
With silver, there are four purity symbols you will find. The first symbol you may find is 800, which is a number only used for silver and indicates that 800 parts in every 1000 are silver, or in other words, the silver is 80% pure.
Moving up in fineness, the next symbol you will find is 925. This number indicates the metal is silver and that it is 92.5% pure. Silver that is marked with 925 is known as Sterling Silver.
Sterling Silver is commonly used in jewellery, cutlery (such as silver spoons), and other products because of its durability. Pure silver is quite rare because it is easily damaged, but by adding a small amount of alloy, silver can be used without fear of breaking.
Next is 958 silver (its exact fineness is 958.4), making it just over 95.8% pure. Known as Britannia silver, this purity replaced Sterling Silver for a time in the late 17th Century during a period when silver supplies were scarce. However, Britannia Silver was less easy to work and following protests from manufacturers, Sterling Silver was re-introduced as the standard purity. Britannia Silver did make an official re-appearance between 1997 and 2012 when it was used for the production of the initial version of the new Royal Mint Silver Britannia coin. Later versions of the coin were minted from 999 purity silver.
999 silver, also known as 'three nines fine' is accepted as fine or pure silver. This type of silver is most commonly found in bullion bars and many bullion coins too.
The purest silver to be commonly found is 9999 or 'four nines fine' which is used by some manufacturers and mints, particularly the Royal Canadian Mint and The Perth Mint. Whilst not used as a 'hallmark', 9999 is used as a 'fineness' mark as 999.9 on some bullion products.
If you would like to learn more about silver purity marks and hallmarks, you can read a comprehensive guide here.
What Is the Fineness of Silver Bullion?
Below is a table of some common types of silver bullion and their fineness:
As you can see above, some silver bullion is extremely pure. For example, the Perth Mint Kangaroo coin has a fineness of 999.9, which means 9999 parts of every 10,000 are silver, or in other words, it is 99.99% pure.
Other Silver Hallmarks
If the object you own is silverplated, then you may see alternative markings, which may include:
EPNS (Electro Plated Nickel Silver)
EP (Electro Plated)
BP (Britannia Plate)
EPCA (Electro Plated Copper Alloy)
EPGS (Electro Plated German Silver)
EP ON COPPER (Electro Plated On Copper)
ESM (Electroplated Silver Mounts)
EPWM (Electro Plated White Metal)
MP (Magneto Plate).
Interested in Buying or Selling Silver Bullion?
At thegoldbullion.co.uk, we offer some of the best prices for buying and selling gold and silver bullion. If you would like a quote on your bullion, click here.
We offer a range of gold and silver bullion to suit any budget, from fractions of an ounce to multiple kilos. You can invest in gold and silver bullion here.