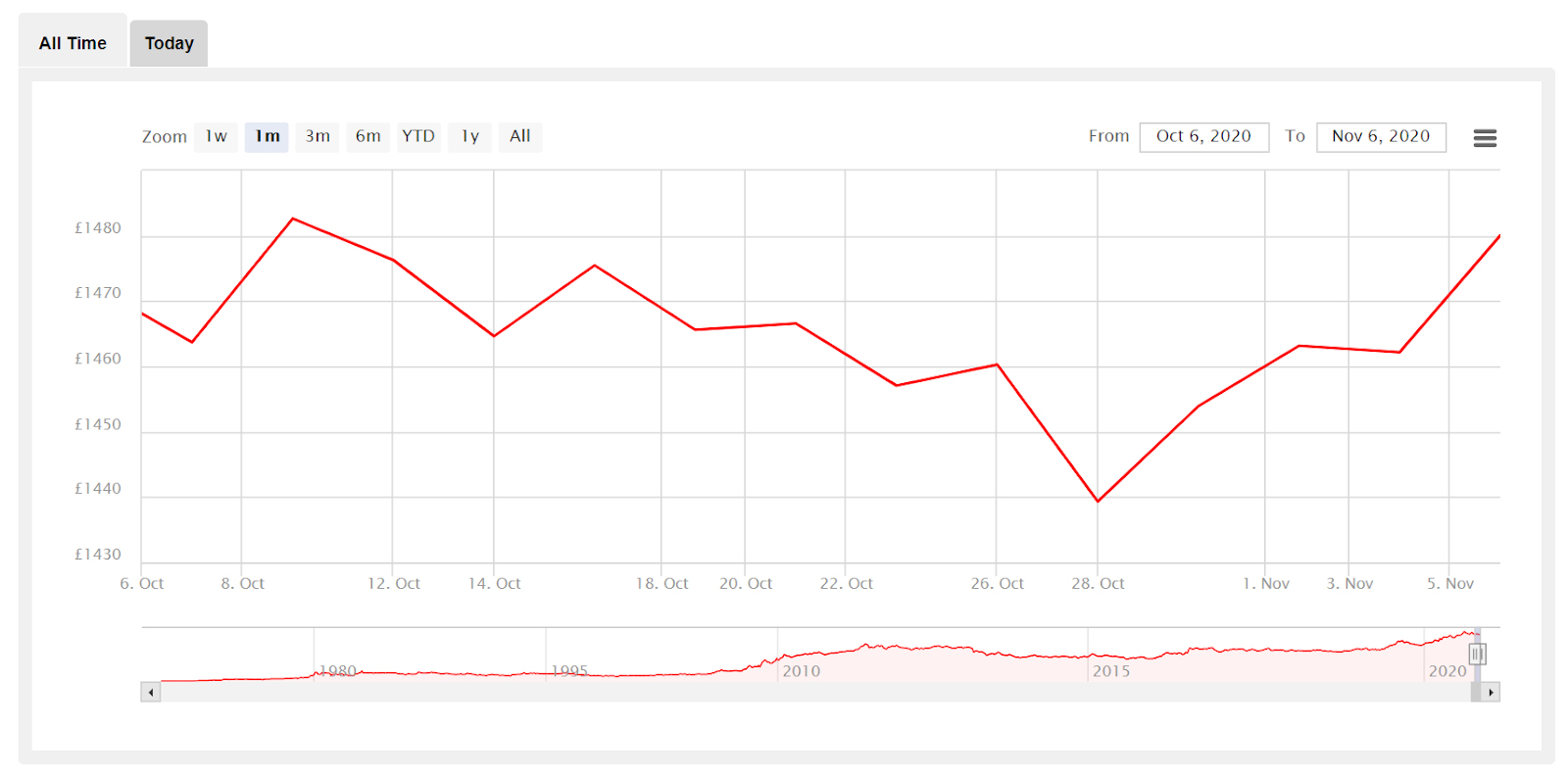 The recent US elections have been some of the most controversial in history, with a record number of voters, mail-in ballots, and now lawsuits.
It seems likely Joe Biden will win, but with a mass of court battles underway, the final outcome is still unclear. This lack of certainty is helping to push gold upwards.
We can now add one more uncertainty to an ever-increasing list of uncertainties this year: Coronavirus and its economic fallout, jobs and employment, businesses and government support — there is an ever-receding view of day-to-day normality.
Investors search for stability in an unstable world. One commodity that not only stands firm but thrives in unstable markets is gold. Since January this year, gold has gained over $400, an increase of around 22%.
Gold now stands at $1965 per Oz, a 2.34% increase over the past 30 days; silver rises to $25.7 per Oz, a 5.32% increase over the past month. Both metals continue rising due to market uncertainty.
Even after the final election vote is counted and the final court case heard, gold is still going to win. This is because the pandemic pushes on, businesses continue to suffer, and investors remain cautious. Governments have stepped in to provide support, but this comes at a cost: central banks around the world have had to expand their quantitative easing (QE) programmes.
The Bank of England expanded its QE programme to £300bn; the ECB boosted its stimulus package by €600bn; and the US Federal Reserve increased its lending by $2.3tn.
As monetary supplies increase, the values of currencies decrease, this is known as inflation. If inflation is at 1% it means you lose 1% of your buying power in one year. The UK inflation is currently averaging 1.19%. However, with such significant levels of quantitative easing taking place around the world, we can expect to see inflation climb.
Unlike the USD, GBP or EUR, gold cannot be produced in unlimited quantities by a machine. This scarcity in addition to global monetary stimulus policies has led many to project gold's price to double — even triple — over the next few years.
The Bank of America forecasts gold to hit $3000 in 2021. Bloomberg Intelligence believes gold will reach $4500 by the end of 2023.
Gold can protect your savings during market uncertainty and maintain your buying power while central banks around the world undertake quantitative easing.
If you are interested in making an investment in gold, you can find out more here.