What is a Krugerrand?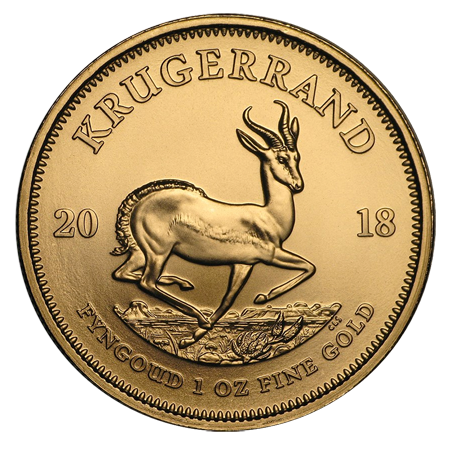 The Krugerrand is one of the most sought-after coins in the world. Produced by the South African Mint, the 1oz Krugerrand coin was first minted in 1967 and was designed from the beginning as a form of currency.
Unusually for a coin intended to facilitate trade, the coin does not have a fixed face value, its value instead based on the fine gold content as priced twice per day by the London Bullion Market Association (LBMA). The LBMA announces its gold price fix at 10.30 and 15.00 daily.
Circulation of the Krugerrand
Such was the popularity of the coin, that by the late 1970's gold Krugerrands made up almost 90% of all gold coins in circulation with an incredible 6 million pieces being made in 1978.
The coins suffered from import restrictions in many countries as they were seen as a symbol of the apartheid era in South Africa. Today, the coins are freely traded internationally, and whilst new coins are being struck, they have not returned to the huge production volumes of the 1970's
1oz Krugerrand Specification
The coins have always been popular with investors as the offer a full one troy ounce of gold, the overall weight of each 22-karat gold Krugerrand coin is 33.93 grams. Each coin measures 32.6mm in diameter with a 2.84mm thickness.
Why is the coin called the Krugerrand?
The name Krugerrand is a compound name. The coin is named in honour of Stephanus Johannes Paulus "Paul" Kruger (10 October 1825 – 14 July 1904), one of the dominant political and military figures in 19th-century South Africa and President of the South African Republic from 1883 to 1900. He came to international prominence as the face of the Boer cause against Britain during the Second Boer War of 1899–1902. He remains a controversial and divisive figure.
The rand part of the name comes from the South African currency, the Rand. This is in turn named after the WitwatersRand, the ridge upon which Johannesburg is built and where most of South Africa's gold deposits were found.
How much is a Krugerrand worth today?
The value of Krugerrand is based on its gold price. At the time of writing (May 2018) The Gold Bullion Company were offering 1oz Krugerrand coins for sale at £1,040.90