Royal Mint Distributor
The Royal Mint is the exclusive supplier of all coinage to the United Kingdom. The Royal Mint dates from the 13th Century and for over five hundred years were located within the Tower of London. In the late 1960's the Royal Mint relocated to Llantrisant in South Wales.
The Gold Bullion Company are a distributor of Royal Mint products, dealing primarily in Royal Mint Special Offer products such as Gold Sovereign and Gold Britannia coins produced annually by the Royal Mint.
Gold Coins produced by the Royal Mint hold special status as a legal tender and therefore are not subject to any Capital Gains Tax (CGT) or VAT in the UK making them the ideal choice for many private investors.
Gold Sovereign Coins are one of the most recognisable coins produced by the Royal Mint. First produced in 1817, each coin features the figurehead of the current British monarch on the obverse with, traditionally a George and Dragon scene on the reverse. The full Gold Sovereign coin weights 7.988052 grams of 22-carat gold and measured 22.05mm in diameter by 1.52 mm thickness. Royal Mint Gold Sovereigns are available in full, half and quarter fractional sizes.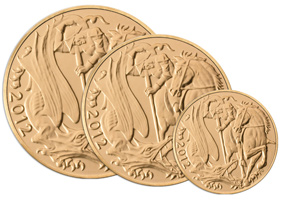 2012 Gold Sovereign available to buy online.
Gold Britannia Coins have been produced by the Royal Mint since 1987 and feature one full troy ounce of gold. Britannia coins are also available in fractional values of one-half, one-quarter and one-tenth. Silver Britannia coins have been produced since 1990 and are available on one troy ounce, one-half, one-quarter and one-tenth fractional values.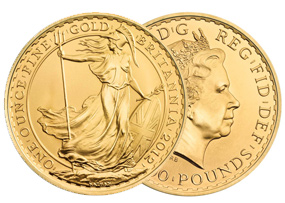 2012 Gold Britannia available to buy online.
Need assistance using our web site or want call our sales line to buy gold? We're available on 0121 523 1047 Monday - Friday 9am to 5pm.