PAMP Faith Series Gold Bullion Bars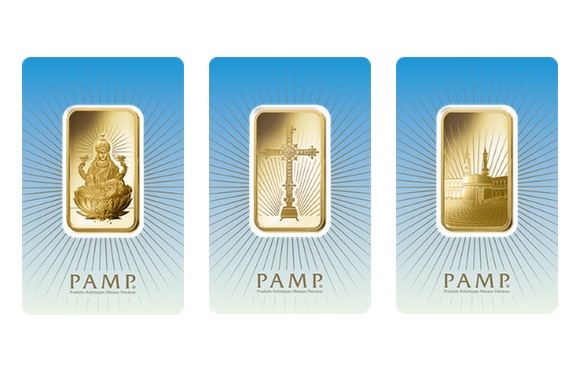 Sometimes gold bars are not just about their physical value. One example of this has been the phenomena of the "Faith" gold bullion bars from the Swiss manufacturer PAMP.
About the PAMP refinery
Established in 1977 and based in Ticino, Switzerland, PAMP operates a state-of-the-art precious metals refinery and fabrication facility which has seen it lend a sophisticated style to the classic gold bar, incorporating a number of design touches and iconography into a fine gold bullion bar.
Some of the most popular designs such as the PAMP Faith series have incorporated religious figures and imagery.
PAMP Faith "Ka 'Bah Mecca" gold bullion bars
Available in a number of sizes and weights including 5 gram, 10 gram and 1oz sizes, one of the most popular items has been the "Ka 'Bah Mecca" bars that incorporate an image of Mecca, the holiest city in the religion of Islam and the site of pilgrimage for more than 1.5 million people each year.
For people about to undertake the journey, the possession of physical gold is a symbolic way of showing that they have reached the state of istita'ah and are physically and financially capable of performing the Hajj.
PAMP Faith Lakshmi gold bullion bars
Another popular set of gold bullion bars from PAMP represent the Hindu goddess, Lakshmi.
Lakshmi who is also known as Laxmi is the Hindu goddess of wealth, fortune and prosperity. She is the wife of Vishnu, one of the principal deities of Hinduism. As well as being a source of prosperity, Lakshmi is also an important part of the traditional Hindu wedding ceremony. The marriage and relationship between Lakshmi and Vishnu as wife and husband is the paradigm for rituals and ceremonies for the bride and groom in Hindu weddings.
As well as being a part of the wedding tradition, many Hindus also worship Lakshmi on Diwali, the festival of lights, making the engraved gold bullion popular gifts to mark the holiday.
Other bars in the PAMP Faith series include a Christian cross in the Romanesque style. An image of Buddha and a bar bearing the Jewish slogan "Am Yisrael Chai" complete the set.