Refer a Friend Scheme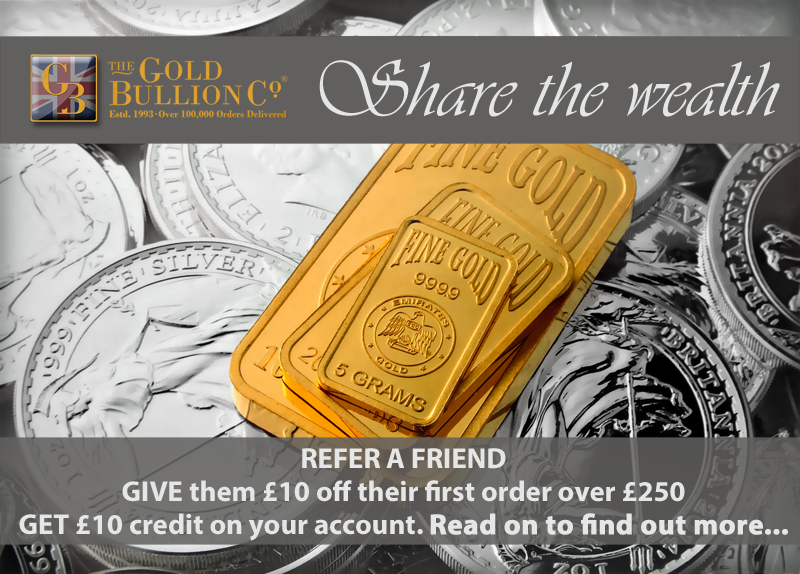 The Gold Bullion Company firmly believes that word of mouth is the best form of advertising. In this day and age it's very difficult to know who you can trust online. We currently have over 9,000 positive customer reviews on eKomi, but there's still nothing quite like a recommendation from a friend or family member.
To make the process of recommending a friend as easy as possible, The Gold Bullion Company have introduced our Refer a Friend scheme.
How do I refer a friend?
After you have placed an order with The Gold Bullion Company, if you are happy with the service you received, we would encourage you to recommend us to as many people as possible.
Visit www.thegoldbullion.co.uk/friend (you may be prompted to Sign In) and enter your friend's email address in the appropriate box. They will receive an email with a unique code and instructions on how to use it.
When your friend enters the unique code during the checkout process they will receive a £10 discount on orders over £250.
What do I get in return?
To reward your hard work in driving new business to The Gold Bullion Company, we will give you £10 credit to redeem against a future order for every friend who places an order of £250 or more. There is no limit to the amount of money you can earn.
How do I see how much credit I have available to spend?
Please visit www.thegoldbullion.co.uk/friend.
How do I redeem credit I have earned?
If you have credit available to spend, the option to redeem it will appear on the page where you enter your debit/credit card details. Simply click 'Redeem credit against this order' and the following box will appear:

Enter the amount you wish to redeem against you order and click 'Apply Discount' - it will be deducted from your order total instantly.
Terms and conditions of the refer a friend scheme
To receive a £10 discount, your friend must spend £250 in a single order. Similarly, you will only receive £10 credit if your friend spends this amount.
There is no limit on the number of people you can recommend. However, before you can recommend a friend, you must have placed an order yourself. To prevent spam, there is a limit of 5 referrals per day and each person can only be recommended once.
To prevent abuse of the refer a friend scheme, referral codes can only be used by new customers and they must not live at the same address as the person who referred them.