Gold Coin Multipacks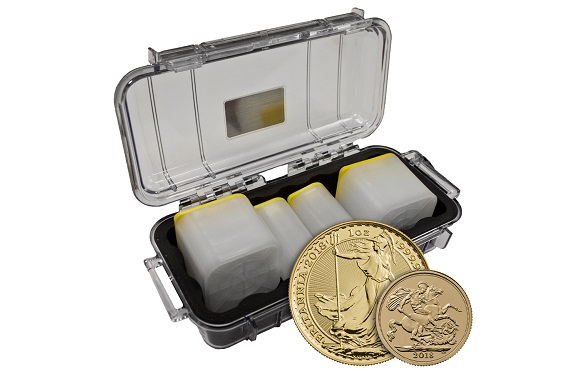 One of the most important uses of gold coins is to facilitate easy trading and use of gold as a proxy for a currency. Unlike gold bars, the value of the coins is lower as they are physically smaller, although their value per gram will be the same as any other gold coin with the same gold content.
Varieties of gold coins
Gold coins usually come in 24 or 22-carat variations. The reason behind this is that gold is an easy metal to scratch, meaning that you may lose some of the value of the coin to dinks and bangs from everyday objects. This would be particularly the case if you were using the coins daily, you could imagine what a set of house keys could do to the soft metal.
To get around this, many gold coins are fashioned from a 22-carat gold that is an alloy between the gold and other metals (usually silver, zinc or nickel). This gives the coin more resilience to damage.
Using gold coins as a means of exchange
If you are looking to use gold coins as a means of exchange, then it makes more sense to actually have a larger amount of smaller denominations.
Let's link this back to the world of the fiat currency. Which is easier to spend? Five £10 notes or a £50 note. The same is true of gold.
Frequently having to exchange large bars to cash and then reinvesting the change in a smaller bar is likely to eat away at the value. However, having a ready supply of lower value coins makes transactions easy, and is precisely the gap in the market that multi packs of coins are designed to fill.
What gold coin multipacks are available?
The range of multipack gold coins on offer from The Gold Bullion Company gives the investor/gold coin user the opportunity to buy coins at different price levels and volumes. The lowest cost item available is MapleGram25 which contains 25 grams of 24-carat gold coins individually sealed in plastic capsule and blister cards. The package in on sale for around £920.
We offer a variety of sizes, but if you are looking for volume of coinage then you could do worse than consider our British Gold Coins - Capital Gains Buster Bundle which contain fifty 2018 Gold Sovereign Coins, containing 365.76 Grams of 22-carat gold and twenty 2018 1oz Gold Britannia Coins containing 622.07 Grams of 24 carat gold.
The collection includes a free Peli Case and currently retails for £31,589.