Discover The Gold Bullion Company Facebook Page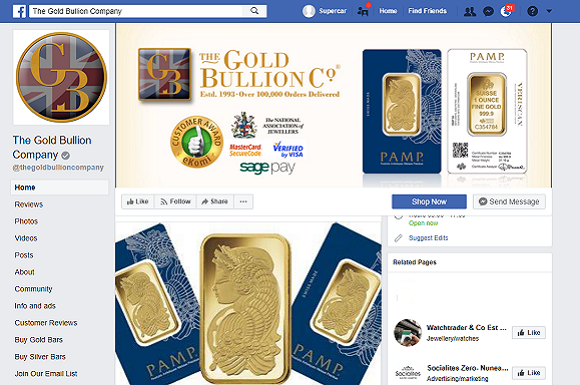 The world of gold bullion investment is very fast moving. One way of keeping up with the latest developments is to become a friend of our Facebook page to stay in touch with the latest offers.
Flash Sales Announced on Facebook – Don't Miss Out
We often use Facebook for giving notice that flash sales are available, something that would take time to set up for distribution by email or would not be so noticeable on our website.
One of the current offers is a 1-week flash sale on gold bullion investment bars from the PAMP Suisse refinery. We are offering Gold Bars ranging from 1g up to 100g at market leading prices. To take advantage of the price cuts then keep an eye out for our "SALE" icon on various PAMP Products. This sale ends at 2pm on Monday 15th October 2018. But, keep an eye on the page as the current offer is far from a one-off event. Recent flash sales have seen great prices on sovereigns and half sovereigns.
New Products and Stock Levels on Facebook
We also use our Facebook page (which can be found on line at https://en-gb.facebook.com/thegoldbullioncompany/) to update our customers on the latest stock levels and new products that we predict will sell out fast. A recent Facebook alert gave the dates for the arrival of new stock of the Queen's Beasts range of coins.
A further post gave more information on the arrival of the "Lunar 2" series of Australian coins that celebrates the Chinese Year of The Pig.
Gold Investment News Stories
Our Facebook page also features a number of stories and news articles related to the gold bullion scene, letting you keep up to date with the latest information thats related to your investment portfolio.
For more information on gold investment, or for help with accessing the Gold Bullion Company Facebook page get in touch with our team.