Best Gold Bars to Buy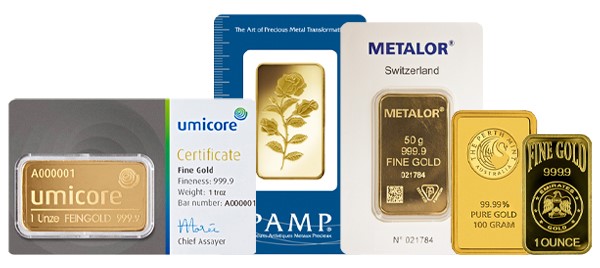 Whether you're new to the gold market or not, conducting research to find out which are the best gold bars to buy is a smart way of improving your chances of investment success. In this guide, we'll be covering some of the key questions surrounding investments in gold bars to help you decide which of the many bullion products available is the best option for you.
Hallmarks and stamping
When you're looking for the best gold bars to buy, one of the key things you'll need to look out for is recognised hallmarks and stamping. They signify quality and mean you're getting a pure gold bar from a reputable supplier.
Pure investment gold bars should be stamped with their weight, purity, refiner and registration number.
The easiest way to ensure you're buying a top-quality pure gold bar is to choose a brand (or hallmark) that is widely recognised.
These are some of the best and most trusted brands:
Price of a gold bar
With prices starting from around £60 for a 1g gold bar and rising to upwards of £45,000 for a 1kg bar, there are plenty of options for both small and large investors looking for the best gold bars to buy.
The Gold Bullion Co. offers real-time pricing based on the gold fix price from the London bullion market, which is set twice a day and is determined by specialists from 12 global banks, including Barclays, Goldman Sachs and UBS.
View our how to buy guide for more information on pricing and investment options.
Additional charges
The best way to keep fashion charges (premiums added to cover the cost of production and packaging) low is to invest in large gold bullion bars. Bars attract a smaller premium because the manufacturing costs are lower, and larger bars incur a lower fashion fee than smaller bars for the same reason. As an example, it would be more cost-effective to buy one 10g bar than ten 1g bars.
When it comes to quality, the best gold bars to buy also have an added benefit in terms of cost. All gold bars that are at a purity of not less than 99.95% do not incur VAT.
Because we only sell gold bars that are 99.99% pure, all gold bars available on The Gold Bullion Co. site are exempt from VAT.
Selling gold bars
Whilst the larger gold bars are a more cost-effective solution to buyers, if you plan to sell your gold bars in the near future, you might find smaller gold bars beneficial because they offer added flexibility.
Investors typically buy larger gold bars as a long-standing investment when they're confident they won't need to release capital anytime soon, whereas smaller gold bars be can advantageous for those who may need access to their investments quickly.
Finding a trustworthy supplier
If you're new to investing in gold, one of your biggest concerns is likely to be finding a supplier you can trust.
The Gold Bullion Co. offers a safe and secure website and a fully insured and trackable delivery service via the Royal Mail and selected couriers. Over 10,000 of our customers have submitted positive independent reviews and we're proud to hold eKomi's gold seal of approval, which carries with it a guarantee of reliable service and safe, transparent online shopping.
For competitive prices and a service that's rated 99.6% from thousands of customers, shop for gold bars now and make a secure investment in your future.