Is the purity and value of your gold one of your greatest concerns when buying gold bars or jewellery? Learn what 916 gold means for your collection.
The value and authenticity of gold has long been a huge concern ever since it was first used as a symbol of wealth and form of currency.
Anyone who collects, owns or regularly trades in gold will want to know its value, however many are uncertain about the various hallmarks and classifications that determine this. This includes information about how pure an item of gold is, who made it and who tested it.
When it comes to gold 916, gold 375 or any other gold type, there are a few theories out there about what these magical numbers mean. But when it comes down to it, the answer to the question 'what is 916 gold?' is actually quite simple. Let's take a look.
What is 916 gold?
To get straight to the point, for gold 916 the number 916 is used to denote 91.6 grams of pure (24 carat) gold per 100 grams of alloy. The figure '916' thus represents 22 carat gold. Similarly, 958 gold is 23 carat gold (23/24) and 750 gold is 18 carat gold (18/24).
Did you know gold 916 was the same as 22 carat gold? While the term 22 carat gold might be more common, these two expressions of gold purity are synonymous, so don't worry if you're being sold gold 916 when you're searching for 22 carat gold jewellery!
916 hallmark gold, aka 22 carat gold, is especially popular for making intricate jewellery and ornaments. This is because it's more adaptable for delicate and careful craftsmanship. Pure gold of 24 carats is actually too soft for wearable jewellery and more likely to bend or suffer from scratches.
On the other hand, gold bars and coins are often sold with a purity level of 24 carats, or gold 990. This is because these pieces are more solid in design and are commonly used as investment pieces.
You can buy much lower purity gold as well. If you're asking yourself 'what is gold 375?', for example, our more detailed article here will help you understand in more detail.
---
The Purpose of a Hallmark
A hallmark consists of three compulsory marks and various optional marks. These symbols give the following information:
The Sponsors Mark – who made the article
The Standard Mark – the guaranteed standard of fineness
The Assay Office Mark – the Assay Office where the article was tested and marked
The Date Mark (Optional) – the year in which the article was tested and marked

---
What are Hallmarks?
Gold hallmarks originated to show the purity of gold in a piece of gold jewellery and included the mark of the assaying office that certified the purity. This was later followed by a mark of the goldsmith who had manufactured the product.
Essentially, hallmarking is a traditional form of consumer protection dating back to King Louis IX of France and Edward I of England in the 1200s. As gold became more frequently used in Europe, state-appointed assayers examined these precious metal goods to determine their value.
In the UK, all gold products are now required to be hallmarked by one of the four assay offices in London, Birmingham, Sheffield and Edinburgh. Each of these offices has its own mark that can be found on items that have been evaluated there.
In the UK it is illegal to sell or describe any item as gold, silver, platinum or palladium unless it is hallmarked or weighs less than 1g if gold or palladium, 7.78g if silver or 0.5g for platinum. The hallmark guarantees the precious metal content and subsequently its sale price based on the current gold spot price.
Similar systems designed to identify the purity and origin of gold and precious metal items have been introduced around the world. For instance, the Bureau of Indian Standards (BIS) would determine gold 916 purity and award hallmarks on gold jewellery at one of its 330 assaying offices throughout the country. This is to make sure that the gold quality matches up with international purity standards.
Here's a useful video on determining the essentials of hallmarks in the UK.
Hallmarks video: https://www.youtube.com/watch?v=oXsc-BLs52I
Identifying Hallmarks
The sponsor's mark

This is the unique mark of the company or person responsible for sending the article for hallmarking. This could be the manufacturer, importer, wholesaler, retailer or individual. However, in order to obtain a sponsor's mark, you need to register with an assay office.
The standard mark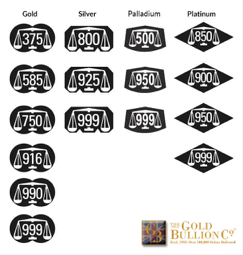 The standard mark represents the purity of the precious metal content in parts per 1,000. So, what is gold 916? It is gold to the purity of 916 parts per 1,000 by weight, or 91.6 per 100, and is equivalent to the 22 carat gold (22K) standard. The fineness or purity of gold, and the gold 916 price of the final product can, therefore, be determined by this figure.
The assay office mark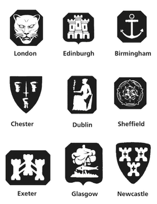 This symbol shows which Assay Office tested and marked the item and each of the main Assay Offices has a distinctive symbol. If you're wondering how to check gold 916 for its purity, here is a useful link from the Birmingham Assay office.
Optional hallmarks



When reviewing your precious metal items, you may come across various 'optional' hallmarks. These can include date marks, traditional marks or commemorative marks.
Read the full guide to hallmarks from our experts here to find out even more about exactly what the markings on your gold mean.
How pure is pure?
Despite what some people think, it's not very common to find pure gold items that are '100 per cent' pure. The purest gold ever recorded only goes up to 999.999 purity, or 99.9999 per cent. This was produced by the Perth Mint in 1957 and assayed by the Worshipful Company of Goldsmiths in London.
This was never commercially released however, so you're unlikely to find this on any hallmarks you encounter anytime soon. The purest commercially released gold item was minted by the Royal Canadian Mint, at 99.999 per cent pure.
In places all over the world, gold items are typically 22 carats or gold 916. One country in particular that has long appreciated the value of gold is India. From neighbourhood jewellers to world-famous gold markets, gold is an important part of Indian culture and a common gift for various celebrations such as weddings.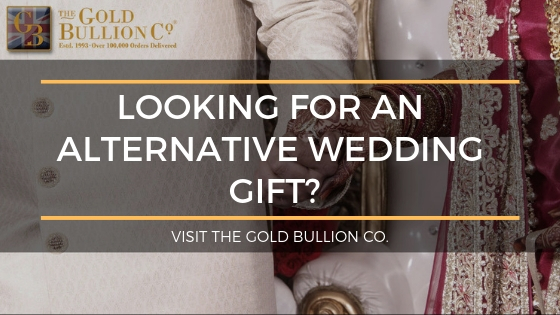 More recently, the popularity of purchasing gold bars and coins has taken off in India as consumers see the value in purchasing pure gold of 24 carats without the extra charges that might come with elaborate jewellery designs. Buying gold bars is also free of VAT and safer from theft when kept in a secure storage facility such as the one at The Gold Bullion Co. And like with any other country, the gold price in India will still depend on the live gold spot price.
If you're interested in just how gold products are made and why it's so hard to achieve 100 per cent purity, here's a great video to see the process in action:
https://www.youtube.com/watch?v=FfOVlnzGzOc/
What you need to know
The world of hallmarks is an interesting one. Especially if you discover historical items featuring marks that are no longer used today in manufacturing. If you are an avid antique or gold collector, there are tonnes of books and articles that you can read on identifying the most unique hallmarks out there.
For the casual buyer, trader or investor however, a general grasp of hallmarks should suffice. This will ensure that you are not cheated when trying to determine the gold 916 rate or value of any other gold item.
When buying or selling gold products, the live gold spot price is applied to the equivalent weight of gold, rather than the overall weight of your product. So regardless of how big your necklace, gold coin or gold bar is, it is only worth as much as the actual gold that it contains.
Finally, we hope you've now learned the answer to what is 916 gold as well as a whole lot more about how gold is made and how to determine the gold 916 rate. For all your gold related questions and interests, The Gold Bullion Company is here to help.