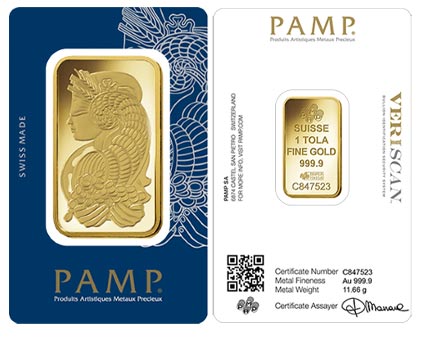 Have you ever wondered what gold tola bars are? If you have ever noticed gold tolas alongside gold bars and wondered what they are and how are they different, you will find out in this article.
You will learn the history of gold tolas, when they were first used and why. You will find out what distinguishes gold tolas from standard gold bars. Finally, we will look at why you may want to invest in gold tolas in comparison to standard gold bullion bars.
A Unit of Weight
The tola is a traditional, ancient Indian weight measure. It is now standardised as 180 troy grains or 11.66 grams. The tola has been used in South Asia for hundreds of years as a standard weight for coins. In fact, the very first Indian rupee, minted between 1540–1545, weighed one tola.
The official weight of a tola has slightly changed over the years and become more standardised. Previously one tola has been equivalent to 175.90 and 179.66 troy grains, depending on the region. But from 1833, the tola became a standardised unit of 180 troy grains or 11.66 grams.
In 1956 the tola was replaced by the metric system and, therefore, is no longer used for currency. However, the tola continues to be used for gold bullion bars in Bangladesh, India, Nepal, Pakistan and Singapore, and tola gold bars are produced by bullion mints all around the world. Tola bars are produced up to a fineness of 999.9.
Why Asian Gold is Measured in Tola?
Some Asian, especially South Asian gold, is measured in tolas because it has been used for many years. The term tola dates back to the Vedic age, when weights were made based on seeds. Traditionally, the weight of a tola was 100 ratti seeds.
The use of the tola weight was widespread, with people measuring many everyday items, not only money, using tolas. Due to this, using the tola for many hundreds of years resulted in the tolas becoming ingrained in South Asian cultures.
Even though currencies in South Asian countries changed to the metric system in the middle of the twentieth century, other uses for the tola, such as for weighing gold bullion, have continued.
Gold Tola Bars
Our range of tola bars includes PAMP Fortuna minted bars with Veriscan security in 1 Tola, 2 Tola, 3 Tola and 5 Tola sizes and 10 Tola Cast Gold bars by PAMP and Credit Suisse. We also stock Valcambi minted bars in certicard packaging in 1 Tola and 2 Tola sizes.
Why Buy Pamp Tola Bars?
PAMP is one of the most prestigious and well-known bullion mints in the world. PAMP has one of the most technologically advanced gold refineries in the world, using some of the most sophisticated security measures.
Lady Fortuna
PAMP Suisse was the first to decorate gold bars on the reverse side. The most famous design is the Lady Fortuna, which features a blindfolded woman with a cornucopia. This design has become synonymous with the PAMP brand.
PAMP emphasises intrinsic beauty and value in their precious metals. This can be seen in their range of decorative motifs used to embellish their gold and silver ingots. These designs are based on mythological and astrological themes.
Veriscan
PAMP's latest security system, VERISCAN, helps to simplify the validation of PAMP's products. The system works in a similar way to fingerprint readers.
The idea is that every product made, even though they go through the same manufacturing process, all finish with unique surface profiles. At the end of the production process, PAMP scans each bar and logs the profile of the surface in a database. Then investors can simply download the VERISCAN application to their phone and scan the bar to find out if the bar is genuine.
CertiPAMP
PAMP's minted bullion comes sealed with an assay card inside, known as CertiPAMP. The bars are never touched because breaking the seal can reduce its value. The CertiPAMP card is tamper-proof and comes from the refinery.
Every CertiPAMP assay card is factory-sealed on the minted bullion so that each bar has the assayer's signature, the bar's serial number, as well as the bar's weight and purity. These assay cards help assure the quality and authenticity of every minted gold bar and have helped PAMP Suisse become the largest manufacturer of minted bullion bars.
Advantages of Buying Tola Gold Bars
The main advantage of buying a tola bar is that it is 1.66g heavier than a 10g bar. Depending on the size of your budget, this could be a convenient weight for you because instead of buying a 10g bar and two 1g bars of gold, you can buy a 1 tola bar and save money on the premium.
Why Buy Tola Bars from Us?
We offer bulk discounts on all our bullion products. Our bulk discounts make it cheaper to buy 5 or 10 tolas. You also have the option of taking delivery of your bullion or you can have your bullion stored securely. Our gold tola bars are VAT-free and we offer market-leading prices.
If you want to buy gold bullion or silver bullion, we sell a range of bullion coins and bars at the best market prices. From 1/10 oz coins to 1kg gold bars, we have something to suit all budgets and investments goals.