Demand for gold in the third quarter of 2011 has seen a 6% increase to 1053.9 tonnes over the same period last year according to the Q3 2011 Gold Demand Trends report released by the World Gold Council today.
Investment demand, at 468.1 tonnes, has now surpassed demand from the jewellery industry (465.6 tonnes), with gold purchased for investment up almost 33% on the third quarter of 2010.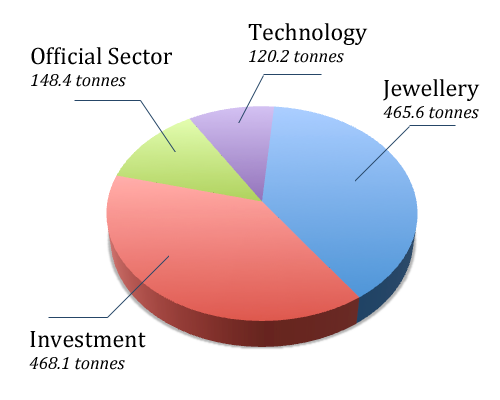 Those 465.6 tonnes of investment gold have materialised predominantly as gold bullion bars, weighing in at 294.2 tonnes, while 76.2 tonnes of gold were minted into official coinage such as 2012 Gold Sovereigns.
Central bank purchasing still accounts for the largest portion of gold deliveries in 2011, but private holdings in gold bullion have soared as gold becomes more accessible and appealing to Jo public.
Want to learn more? Download a free PDF copy of the World Gold Council Q3 2011 Gold Demand Trend Report.