Umicore Gold Bars Authorised Distributor
The Gold Bullion Company is an authorised Distributor for Umicore Gold precious metal products. Established in 1989, Umicore, based in Brussels, Belgium have in recent years moved away from the heavy mining roots towards production of precious and other base metals primarily from recycled materials. Umicore Gold Bars are now one of the most commonly requested gold bullion bars and have quickly become one of the most recognised bullion bar brands in the UK and Europe.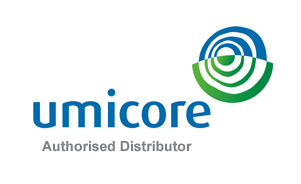 We stock a full range of Gold and Silver Bullion bars from Umicore, from 100g Silver Bullion bars right through to 1kg fine gold bullion bars. A selection of our Umicore products:
Need assistance using our web site or want call our sales line to buy gold? We're available on 01902 623 259 Monday - Thursday 9am to 5pm and Fridays 9am to 4.30pm.