Gold can be found spread across much of the planet and has been mined on each of the seven continents - even Antarctica! (Although not in a commercial capacity).
This wide distribution of gold is thought by scientists and geologists to be due to millennia of bombardment by huge alloy rich meteorites that peppered the earth's surface with deposits of gold over two billion years ago.
Gold is acquired from the ground in many different ways, varying greatly between countries and changing with the geography and geology of each location. From deep mining of hard rock deposits such as those found in South Africa, where mines reach almost 4 kilometres below the earth's surface to panning of open streams in the Alaskan wilderness, gold mining is a dangerous and ever increasingly expensive business!
Just how much gold is there on planet earth? Depending on who you ask, Scientists and Geologists estimate anywhere from 155 tonnes to over 2.5 million tonnes! But more important is the amount of accessible gold, that is, the metal that can be mined within the scope of current technological, environment and economic boundaries…
As 'in ground' gold becomes scarcer, miners have to dig deeper, travel further and develop cutting edge technology to keep up with demand. Longer term, these ever increasingly exhaustive activities must surely force the price of gold up as a result of simple supply and demand economics.
So where in the world is the majority of gold found? The top ten gold producing countries mined a total 1,802 metric tons of gold in 2011, 67% of the total 2,687 tons of gold mined across the world for the year.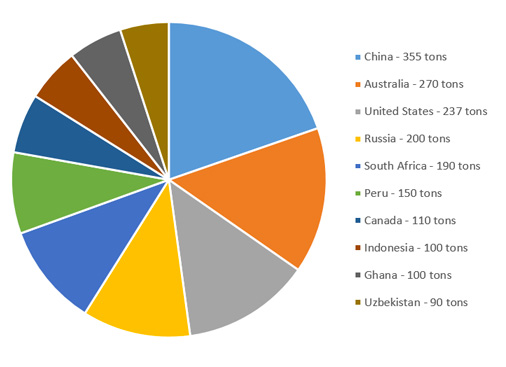 * Data from United States Geological Services Mineral Commodities Study.
So what happens to all of that mined gold? The World Gold Council report that in 2012, jewellery manufacturing was the largest 'consumer' of gold, utilising just over 400 tonnes of the metal, followed by investment bullion bars and coins at 285 tonnes and almost four times as much as technology usage at just over 100 tonnes.
Want to learn more about gold mining and usage? The World Gold Council have a wide range of articles covering every aspect of gold.