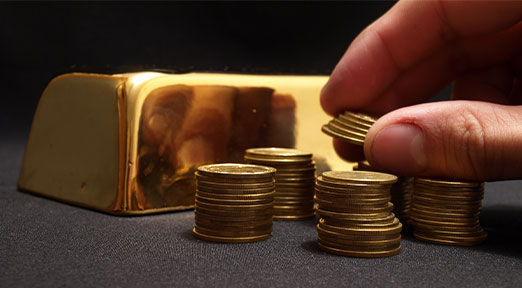 Another Christmas, another new variant of COVID-19. You'd be forgiven for feeling a sense of déjà vu, as the World Health Organisation (WHO) listed variant B.1.1.529 a new variant of concern as we start the countdown to the festive season. This new variant has been given the title Omicron, and it has already reached the UK, with potentially thousands of cases expected in the UK by Christmas.
This new variant concerns many, as it spurs fears that Christmas could be cancelled for a second year in a row, with all the economic fallout that entails. Couple that with fears of higher inflation lasting longer than expected and the conditions for an impressive performance for gold could be on the cards for 2022.
A costlier Christmas for all
High energy prices mean consumers paying more at the pump and for their monthly bills. The squeeze extends to higher food prices, at a time when many hope to enjoy a hearty feast during the festive season. A shortage of semiconductors also means a variety of electronic devices might be harder to find and costlier this time around. These factors could all help keep inflation elevated in the coming months - well above the official two-per-cent inflation target set by the Bank of England (BOE).
The Centre for Economics and Business Research (CEBR) expects families to be spending an additional £1,700 over the next year in household costs due to high inflation. This eats into disposable income, at a time when the economy is in need of a boost from consumers. Christmas is one of the most popular seasons for retail, but high prices for energy may deter people from spending on non-essentials, giving few reasons for Christmas cheer.
High inflation was expected to be transitory, but CPI inflation is estimated to have hit over five per cent in November 2021. This prompted the Monetary Policy Committee of the Bank of England (BoE) to raise interest rates from 0.10 per cent to 0.25 per cent in mid-December 2021. Just as the economy is close to completing its recovery from the COVID-19-induced recession, a sudden hike in interest rates could be all it takes to set the economy back for another year. Just as rising interest rates crippled the economy in the 1970s and boosted gold prices, the coming months could see a repeat performance of these trends. Gold could serve as a safe haven, as it often does in times of economic turbulence.
Omicron dents Christmas 2021
High inflation is just one of the things which could propel gold prices higher in 2022. The emergence of the Omicron variant could compound the economic malaise even further. Travel restrictions have already been imposed to limit the risk of the variant's spread, impacting the travel sector. Retailers could start to feel the pinch, as more of us stay home and spend online, depriving shops of footfall during the most important weeks of the retail calendar.
Restaurants and pubs could face cancellations, as more people spend Christmas in their own household bubbles. Just as Christmas 2020 was 'cancelled' due to the emergence of the Beta variant, Christmas 2021 could see our plans curtailed once more. While markets have tumbled on the news of a new variant of concern, gold prices have held steady, reflecting how gold could stand to benefit from any potential economic turbulence in the coming weeks and months.
There is a difference this time around, however, when you consider the tools we have at our disposal. Millions of shots in arms over the last year, including a recent round of booster vaccines, are protecting the population from a surge in cases and hospitalisations. Testing is easier than ever before for households, helping identify infections quicker and allowing people to modify behaviour to limit the spread of infection. It is just a simple waiting game to see whether the Omicron variant is weaker or stronger than previous ones, and whether more stringent measures are needed to tackle it.
In the meantime, there is great uncertainty about the way the situation could develop, and gold often benefits in times of uncertainty. Perhaps it's time to consider buying gold today?
Protecting wealth in 2022
Like a Christmas stocking, the year ahead could be full of surprises. Gold has historically been an effective way of smoothing the rough edges of a choppy year in the markets, rising while many assets fall in value. Since the emergence of the first COVID-19 cases in 2019, gold prices have risen 20 per cent and remain at a high level. The economic fallout of the pandemic has helped propel gold to all-time highs, and another year of COVID-induced malaise could keep gold shining brightly for another year to come.
The Gold Bullion Company has an array of gold items which you might want to consider to help preserve your wealth amidst COVID-19 turbulence and high inflation. The 2022 Gold Britannia gives you an opportunity to buy gold coins showing Britannia in all her splendour, with trident and shield in hand. It is CGT-exempt and VAT-free, offering a fair price for a gold coin with a great deal of history behind it.
Not only that, but the 2022 Gold Sovereign is on its way shortly, as the Her Majesty Queen Elizabeth II reaches her 70th anniversary of becoming our reigning monarch. Both coins are the product of The Royal Mint, which is known in gold markets as a source of high-quality gold coinage. If you have any questions about buying gold, don't hesitate to get in touch with the Gold Bullion Company today. We're gold experts who have provided a range of high-quality gold and precious metals items for many years.