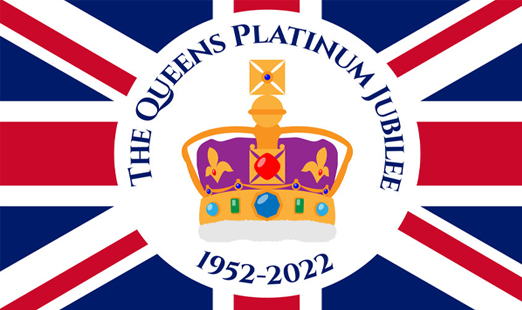 The first weekend of June will see a four-day weekend to celebrate the special occasion of Her Majesty Queen Elizabeth II's historic Platinum Jubilee. This is a once-in-a-generation event, with Queen Elizabeth II now eclipsing Queen Victoria's reign by seven years.
The Royal Mint, the second oldest mint in the world, is honouring the landmark by releasing its largest coin collection ever. This is appropriate as The Royal Mint has struck every coin currently in circulation since Queen Elizabeth's coronation.
The mint has a history stretching back more than 1,100 years of royal history and is the most prestigious and recognisable mint in the world. As an official partner of The Royal Mint, The Gold Bullion Co. is proud to offer a range of commemorative bullion coins for the Jubilee.
A royal collection
We have a selection of Gold Britannias and Gold Sovereigns with a royal pedigree. For those new to gold coins, you might be wondering what makes these coins so special.
Gold Britannias
Gold Britannia coins are produced by The Royal Mint. They were first launched in 1987, although Britannia has featured on coins for more than 350 years. Gold Britannia coins were designed to appeal to the international gold investment market and they are minted from the finest 999.9 gold.
Britannia has a long royal lineage, featuring on coins since Charles II. In fact, Britannia has been depicted on British coins in the reign of every monarch since Charles II. Britannias are verified by The Royal Mint's authenticators, so you can trust you're buying the real thing. Every year a new Britannia is minted, so you have the opportunity to own a unique piece of history.
Gold Sovereigns
Sovereigns have been minted since 1817 and with their status as legal tender, they are exempt from Capital Gains Tax (CGT) and VAT. The Gold Sovereign is recognised alongside the Krugerrand as the world's premier gold bullion coin, because of this they have international recognition.
In light of their status as legal tender, Sovereigns have a nominal value of £1. But this does not influence their market value; they are much sought after by gold investors who are looking to diversify their investment portfolio and can be particularly attractive for first time investors as they are relatively small units, especially compared to gold bullion bars.
Sovereigns typically feature the reigning monarch of the day on the front of the coin and the traditional George and Dragon design on the reverse. The reverse side design isn't fixed however, and on certain special occasions a new design is introduced. There has been a special Diamond Jubilee design and in 2005 a more modern design was trialled. More recently, in 2017 a coin bore a special privy mark commemorating 200 years of 'modern' Sovereigns.
Official partners to The Royal Mint
The Gold Bullion Co. is proud to be an official partner of The Royal Mint. Our partnership with the mint allows us to offer investors and collectors the opportunity to buy verified Gold Sovereign Coins and Gold Britannia Coins. These are supplied to us directly by the mint, so you can always trace their provenance.
We currently have a range of Sovereigns, Half Sovereigns, gold, silver and platinum Britannias, and gold coin sets in stock.
Precious metal lovers might also see fit to mark the Platinum Jubilee with some of the precious metal itself that the Jubilee is named after. We have 1/10oz Platinum Britannia coins (limited stock available) and 1oz Platinum Britannia coins in stock.
If bullion is your thing, why not explore our platinum bullion bars? The 1g Fortuna Platinum Bars and 5g Fortuna Platinum Bars feature Lady Fortuna on the bar.
Platinum is the ideal partner for the once-in-a-lifetime Platinum Jubilee, being a rarer precious metal than gold and silver.
2022 Royal Sovereign
Minted in 22 carat gold by The Royal Mint, the 2022 Full Gold Sovereign features a rare change to the reverse of the coin. This exciting development has been overseen by esteemed designer Timothy Noad. His new interpretation of The Royal Coat of Arms includes fine detailing on the traditional lion and unicorn.
The 2022 mintage is also available as a Gold Half Sovereign.
Buy the 2022 Royal Sovereign from The Gold Bullion Co.:
FREE secure storage option for six months
Fully insured, discreet and safe delivery VAT free Highly collectible
VAT free
Highly collectible
These historic coins are expected to be much in demand by collectors, in this unique year of Her Majesty Queen Elizabeth's record-breaking reign. The new design and once in a generation nature of these coins could prove irresistible to collectors, boosting the potential resale value for investors.
The 2022 Gold Sovereign are available as single units, or you can choose to buy in bulk. Official Royal Mint tubes of 25 coins and 'monster' 500 coin boxes are available.
If you are buying a Sovereign as a gift for a loved one, you may want to present it in a premium walnut display box, allowing the owner to admire it whenever the mood strikes.
2022 Gold Britannia
The 2022 mintage is available in various weights including: 1/10oz,1/4oz, 1/2oz and 1oz. They feature HM Queen Elizabeth II on the coin's obverse with the latest portrait of Britannia depicted with her shield and trident on the reverse side. It has been manufactured by The Royal Mint to a fineness level of 999.9.
Buy Gold Britannia coins from The Gold Bullion Co.:
Fully insured, safe UK delivery
Capital Gains Tax and VAT free
Secure storage option
Historic and collectible
New security features make the 2022 mintage virtually impossible to copy:
Wave illusion – waves depicted behind Britannia are given the illusion of movement when the coin is moved.
Tincture lines – hint at coloured lines and patterns on the coin's surface.
Latent image – a small circular image depicts a padlock or trident depending on the angle it is viewed at, similar to a holographic effect.
Micro-engraving – micro lettering is created using laser technology on the coin face. Traditional minting methods cannot replicate fine lettering.
The new security features help give the coin its beautiful look. Additionally, they lend distinctive qualities to the coins which are difficult to copy technically, and costly to reproduce. The 2022 Britannia Gold Coin is generating a lot of interest from investors around the world, which could make the 2022 mintage the most popular yet!
Commemorate HRM's Jubilee with collectible coins
We have a variety of coins related to The Royal Family in stock. We're always happy to advise first time investors, as well as guiding seasoned investors and collectors on the best choices for their requirements.
We're here to help. Please contact us with any queries about buying gold, we'd be delighted to support you in the exciting world of gold investment and collection.