Following the collapse of last-ditch talks between Greece and its creditors on Sunday night, European stock markets have fallen sharply in early trading.
An EU Commission official said the talks broke up in under an hour as "there remains a significant gap between the plans of the Greek authorities and the demands of the international creditors".
Greece is now careering towards the end of June when €1.6bn becomes due to the International Monetary Fund.
As expected, the Greek stock market was particularly badly hit this morning with shares down 6% as panic took hold in Athens.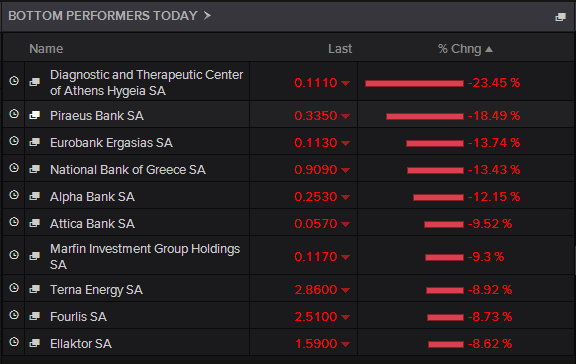 Biggest losers on the Athens stock market, 15 June 2015. Photograph: Thomson Reuters
The sell-off in Greek government debt also intensified with money flowing into German bonds, pushing the 10-year yield down from 0.85% to 0.8%.
Volker Kauder, the parliamentary leader of Angela Merkel's Christian Democrat party has urged Greece to "get back to reality" this morning as the government holds an emergency meeting to discuss their next move.