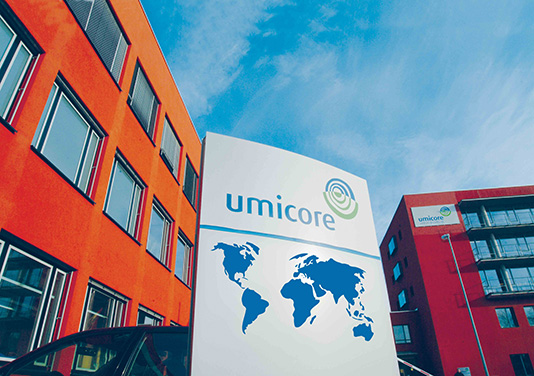 The story of Umicore goes back more than 100 years, with its long history in the mining of precious metals dating back to the early 1900s. Today's Umicore group, however, has moved away from its mining roots, and focuses instead on the refining and recycling of precious metals, and the manufacture of specialised products.
Umicore now employees more than 14,000 people in 38 countries, with an annual turnover of around £9bn. And while it generates the majority of its revenues from clean technologies and recycling (for which it has recently topped numerous lists as being one of the most sustainable companies in the world), it's also notable for the quality of the gold and silver bars it produces.
Umicore gold bars are now one of our most commonly requested gold bullion bars and have quickly become one of the most recognised bullion bar brands in the UK and Europe.

Umicore Authorised Distributor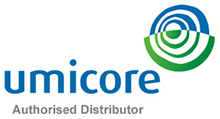 The Gold Bullion Company is an authorised distributor for Umicore precious metal products.
We stock a full range of gold and silver bars, from 1g to 1kg, complete with a full certificate of authenticity.
Buy your Umicore products from us and receive free UK delivery, fully insured in a sealed, fully secure, nondescript package.

Top 3 Best Selling Umicore Products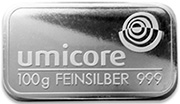 1. Umicore 100g Silver Bar
Striking a strong balance between physical substance and market value, the 100g silver bar from Umicore is our current best seller – making for a generous gift or solid first time investment in precious metals.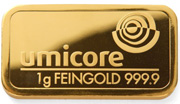 2. Umicore 1g Gold Bar
Small but perfectly formed, Umicore's 99.99% pure 1g gold bar makes for a good starter investment to test the market, or a standout gift for weddings or special occasions.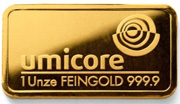 3. Umicore 1oz Gold Bar
The ever-popular 1oz format (31.1g) is the largest of the bars in the top 3. The VAT-free nature of gold and a high £/g value make this gold bar format a popular choice with investors.