Dubai has played a dominant role in the international physical gold market for many years now, and Emirates Gold, operating for more than 20 years from its Dubai headquarters, is amongst the most influential and respected gold refineries in the Arabic region.
Founded by Swiss citizen Mohamad Shakarchi in 1992, the firm processes 200 tonnes of gold and silver a year, creating bars, coins and medals, as well as a range of custom made products such as personalised trophies and plaques.
Emirates Gold has played a major role in the rise of Dubai as a gold producer, and has also contributed toward its status as the City of Gold through the production of the Visions of Dubai gold coin.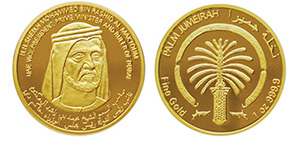 Emirates launched the Visions of Dubai gold coin in World Gold Council
in 2007 to celebrate Dubai's status as the 'City of Gold'

Emirates Authorised Distributor
The Gold Bullion Company is the sole UK distributor of a range of fine gold and silver investment products from Emirates Gold.
We stock a range of bars from 1g to 25g, complete with certificate of authenticity.
Buy your Emirates gold and silver products from us and receive free UK delivery, fully insured in a sealed, fully secure, nondescript package.

Top 3 Best Selling Emirates Gold Bars

1. Emirates 1g Gold Bar
These 1g 24 carat gold bars offer the best price per gram for a 1 gram gold bar, making for a novel gift for a special occasion, or a great gateway investment.

2. Emirates Gold 2.5g Boxed Gold Bar
The larger 2.5g Emirates gold bar weighs in at a significantly lower price per gram, and prove popular as a slightly more substantial gifts.

3. Emirates 10g Gold Bar
The 10g 24 carat gold bullion bar is our best priced Emirates gold bar, and comes complete with a certificate of authenticity.