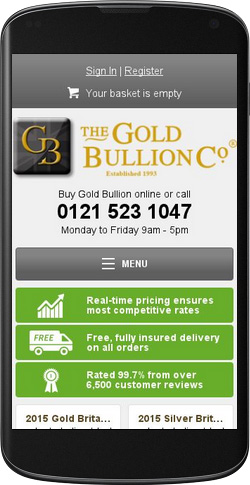 Today we are pleased to announce the launch of our new, mobile-friendly website.
Between 1 May and 31 October, approximately 25% of our customers visited www.thegoldbullion.co.uk on a mobile device. Unfortunately, during this time the browsing experience on a small screen was not as user-friendly as it could have been and required a lot of 'pinching and zooming' to navigate. Therefore we have utilised the latest technology to update the website so it dynamically resizes itself depending on the customer's screen size.
During the redevelopment of the website, we also improved efficiency and reduced the time is takes to load the site from 4.38 seconds to 2.33 seconds.
We hope these changes to our website will improve the browsing experience and make it easier for our customers to purchase gold bullion online regardless of whether they are using a phone, tablet or desktop PC.
If you have any questions or comments about our new site, please do not hesitate to contact us by telephone on 0121 523 1047 or by email on [email protected].