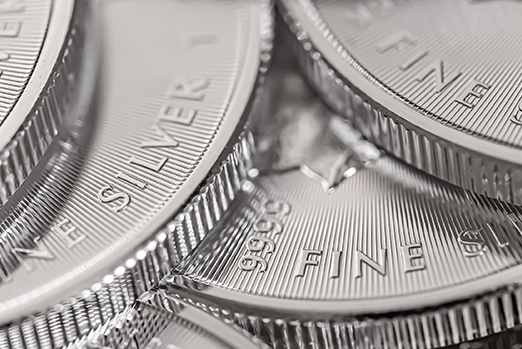 There is no doubt that there has been growing demand for physical silver and arguably the strongest investor interest in silver we have seen in several years – could this set the scene for another silver price rally?

Undoubtedly, as an investment, physical silver is often overlooked and overshadowed by its lustrous counterpart physical gold.

However, the price of silver jumped more than 70% in recent times, amid growing investor interest and industrial demand for the white metal.

Some analysts have gone as far to predict that the silver rally is likely to continue, especially at a time when the global economy is reopening after the pandemic.

So, what is the future looking like in terms of the silver price and could silver open new opportunities for investors?

Let's delve into this!
What are the silver price trend and forecast?
There is no denying that there is an element of risk, and turbulence can be met, when investing in silver sometimes, as the silver price is usually much more volatile than gold. There is some truth behind the joke that silver is "gold on steroids" as it tends to rally much higher and faster compared to its more expensive peer.
There are a few reasons that explain why silver is much more volatile than gold. One being that the silver market is much smaller than that of gold, therefore there is lower market liquidity. Thus, meaning buyers can struggle to find sellers willing to sell at their set price (or the contrary) which can lead to intense upward or downward movements.
Secondly, industrial demand for silver tends to fluctuate, which can cause the price to bounce back and forth.
What is the silver price trend?
Upon focusing on the volatility of silver its best to look at the price dynamics for silver in 2020 and 2021:
In 2020, in the period from mid-March to mid-August silver skyrocketed 142.8% in only 4.8 months!
In 2021, silver started the year at £19.81 an ounce before reaching an eight-year high at nearly £21.79 and falling back to £17.43 an ounce in late March.
Commodity strategists believe the silver price rally is highly likely to continue due to the Covid-19 pandemic.
"The rally can last as long as the world remains concerned about the impact of Covid-19 mutating and concerned about the impact of Covid on the services industry. Both of these concerns can […] sustain [silver] investment demand at high levels,"
Max Layton, managing director of Commodities Research at Citi Global Markets, said.
What is the silver price outlook for 2022?
Nicky Shiels, Head of Metals Strategy at MKS PAMP GROUP, sees three possible scenarios for the silver price:
Base case: the average silver price will increase to roughly £20 an ounce.
Bullish case: the average silver price will increase to around £25 an ounce.
Bearish case: the average silver price will drop to about £10 an ounce.
However, she puts the probability of the Bearish scenario to only 30%, while she gives a 70% probability to the Bullish case.
Taking these scenarios into account, even in the base case scenario the silver price is expected to climb upwards.
As previously mentioned, there is a lot of extensive price volatility to deal with when investing in silver. It can also surprise investors with big and fast price gains, as was seen in 2020. Granted, there were unusual factors that effected this year and many other sectors outside of the precious metal markets, however the potential for volatility that silver offers is particularly attractive for investors who are prepared to accept some risk in their portfolios.
Why is there a high industrial demand for silver?
One of the key drivers likely to support this positive momentum for silver is its ever-growing industrial demand, exemplified by China's plans for a giant 400-gigawatt wind and solar "megaproject", adding as much renewable capacity as currently exists in all of Europe.
Silver has several unique properties that make it especially valuable in the industrial sector. Silver's main sought-after properties for industrial use:
Silver works particularly well as an electrical and thermal conductor. This makes it ideal for a wide range of electrical applications.
Silver is the most reflective of all metals. Because of that, it is used to make most mirrors. Its reflective properties are also used for high-tech scientific equipment such as microscopes, telescopes, and solar panels.
Silver plays a major role in photovoltaic energy (solar energy), water filtration, mobile phones, nuclear reactors, electric vehicles, medicine, and more.
What is the outlook for silver's use in electric cars?
Nearly every electrical connection in an electric vehicle (EV) uses silver, which helps us understand the importance of silver within the electric car industry.
In total,?the car sector uses around 55 million ounces of the metal annually. From the looks of it, it doesn't seem like it is going to decrease either.
Overall, silver's use in electric vehicles is projected to increase to more than 89 million ounces by 2025, based on data from the World Silver Institute.
What is the outlook for silver's use in solar energy?
With climate change at the forefront of most people's concerns currently, there has been a shift in finding and securing decarbonised, sustainable and renewable sources of energy.
Renewable energy is the fastest growing energy sector, with its growth capacity jumping 45% in 2020 as part of an "unprecedent boom" in the wind and solar energy sector.
"Silver's use in Photovoltaic (PV) power is the leading current source of green electricity…Despite COVID disruption, the PV market proved its resilience in 2020. Newly added solar capacity saw further growth, with the total estimated to have surpassed 130GW for the first time ever," The Silver Institute said in a note.
Alongside this, solar power generation is expected to nearly double by 2025, providing an important and consistent source of industrial demand for silver over the next decade.
This unsurprising, given that more and more countries have recently been shifting to renewable energy sources, with China taking the lead in the solar energy sector.
The Chinese government have huge plans for game-changing projects in renewable energies as they slowly move away from coal and are likely to create extensive demand for silver as a key component in these industries.
Are retail investors turning to silver?
According to Ole Hanson, head of Commodity Strategy at Saxo Bank, although around 50% of the demand for silver was industrial, the rest came from investors.
Flashback to #silversqueeze
The famous silver squeeze, that we saw took place not once, but twice this year is a good example of growing retail investor interest in silver.
In late January – early February 2021, retail investors, encouraged by the online forum site Reddit, pushed the silver price to an eight-year high.
The second silver squeeze which we witnessed in early May, was slightly slower than the first round, as investors got the idea to buy physical silver bars and coins, this did eventually push the price of silver up.
It seems that the demand for physical silver is only going to grow, with Nicky Shiels predicting that "retail coin demand could reach a 5 year high in 2022".
So, what could make silver an interesting investment?
It all depends on the individual's goals, investment strategy and risk appetite. However, there are several reasons why silver could be an attractive investment:
Silver's accessibility to small investors: If you have a smaller budget, silver is a good option for those looking to begin their investment into precious metals. Silver is roughly 75 times cheaper than gold
Good portfolio diversifier: As it has that element of risk it can bring some volatility to one's precious metals portfolio, and it is also nice to have a mix of gold and silver
Silver is a key component in green and sustainable technologies: This is likely to support demand along with the positive silver price mom